AUCTION & RUMMAGE SALE
Concession Stand with Cinnamon Rolls, Scones, Coffee, Drinks & Soups ... offered by Brenda K & Wendy Gx
HOUSEHOLD FURNITURE: Armoire & bedside stand with geometric border; vanity dresser, full bed, upright dresser & side table; dark wood dresser with granite top; king-size bed with bookcase headboard; old dark-wood spiraldesign "full-size" bed; dark-wood spiral-design vanity dresser with mirror; upright wood dresser; Nature- theme painted hutch and hallway table; beautiful low dark wood hutch, opens on top; numerous long hutches, both tall & short; oak dining room sideboard cabinet; 8- person wood dining table with 2 leaves; round oak table with leaf and 4 chairs; 2 oak dining table chairs (not part of a set); darkwood dining table with 2 leaves; 6' x 8' dark wood entertainment center; 2'3"-square dark wood table with curved legs; glass-topped walnut coffee table; delicate, carved, medium-wood end table; 4 rocking chairs and other side chairs; 2 metal & light wood baker's racks with drawers; metal baker's stand & metal corner stand; African-themed metal bistro table & 2 chairs; children's round wood table with 2 captain chairs; a wide, wood telephone chair; 16- 20 segmented glass cube display stand, @ 6' x 6'; 3 round particle board display tables with glass tops; 2 maple bar stools with backs; 50's-style record album cabinet ; a large and a small hope chest; numerous side tables, plant stands & bookshelves.
ACCESSORIES: Decorative mirrors; floor & table lamps; large green floral-design area rug; old Seth Thomas mantel clock; rack-and-balls pool clock; wood coat rack tree; 5 sets of biand tri-fold room dividers; jewelry standing cabinet, jewelry boxes; 2 blonde-wood TV trays; ladderstyle red towel & décor rack; framed wall pictures, picture frames; decorative easels for displaying art; mounted 4-kittens tapestry; large variety of decorative wall shelves; dark solid oak bed desk; 43" Vizio wide-screen TV.
KITCHEN & DINING ITEMS: Large selection of dinnerware, crystal goblets, wine glasses, espresso cups and more; McCoy pottery, Princess House glassware; elegant cooking & serving dishes; hand-decorated Italian serving bowls; colorful water pitchers and teapots; table cloths, candleholders, candles; pickle crocks; Sitram cookware; 2 orange Fiesta cooking/serving dishes; 9-pc. sandstone-colored Tenderheart bowl & crock set (DW, freezer, microwave, oven safe), unused; canning supplies.
ANTIQUES: 3 steamer trunks; "Round Oak" wood stove from Dowagiac, MI; beautiful dark-wood hutch and glass curio piece; decorative, fliptop pedestal table; telephone chair (wide wood chair); Save-a-Toy cart; Paragon treadle sewing machine; White cabinet sewing machine, Model 951; convertible bench-ironing board; wood case record player & radio; old Mc- Caskey metal receipt & cash drawer; metal commodity dispenser; glass & kitchenware; old Thermos brand picnic set in canvas case; 3 antique wooden sleds; 3 antique red wagons; Murray antique girl's bike – teal; 3 horse yokes; 3 metal tractor seats; metal cream can; old cartoon-character watches.
GLASSWARE: 2 Monarch crystal candlestick sets; 3 Viking glass vases & Egyptian glass vase; various crystal and glass pieces.
APPLIANCES: Maytag dishwasher, never installed; Haier small chest freezer; Whirlpool refrigerator; Amana stove; Kenmore washer; Maytag dryer; Rival microwave; Breadman Plus bread-making machine; GE panini grill; 3 large crock pots, including Rival crock; food dehydrator, small pasta cutter & more.
OTHER FUNCTIONAL ITEMS: Kenmore room air conditioner; ceiling fan in box, like new; dehumidifier & humidifier; 3 portable electric heaters; surgical recovery pack for hip; massage cushion – 6 motors & 8 magnets; bath chairs & aging assists; tall ladder; metal detector; squirrel cage blower fan; variety of organizing and storage systems.
OFFICE: Small oak roll-top desk; antique oak veneer desk; dark wood desk, plus 5 or 6 other desks; 5 older metal filing cabinets; 2 paper shredders; Sharp electric adding machine with paper tape; old typewriter, overhead projector.
MACHINIST & LAPIDARY TOOLS: Skil 8" drill press; Sears Craftsman drill press; Edison ½" drill press; Central Machinery milling/drilling machine; Central Machinery lathe, 2 others; Mitutoyo precision height gage; full set of tool & die size gages; Sine plate; rotary table; Central Machinery rock polisher & facet cutter; large rock saw and table; large rock polisher; Black & Decker 7¼" circular saw; metal cutters & files; numerous drill bits, tools; Craftsman 12" two-speed bandsaw; Skil hand saw; Black & Decker 1-3/4 HP electric hand saw; Craftsman Belt/Disc sander, 2/3 HP; Palm sander w/ sanding pads; Dremel tool w/accessories; 5" bench grinder; beautiful old wooden parts cabinets; good metal parts cabinets.
YARD & GARDEN: Two 2-chair & table bistro sets; wooden rocking bench; Solar lights; garden tools & supplies, pole trimmer; large variety of yard & garden décor, bird baths, seed trays, concrete yard ornaments & planters; 14" electric chain saw; self-propelled push mower.
HOBBIES & RECREATION: Paragon Touch 'n Fire kiln, DTC 600C; 4 artist easels, one in box unopened; 4-sided art supplies stand; artist tool boxes and tools, many supplies; sewing & knitting supplies & accessories; large variety of crafter supplies; 29" round saw blade for crafters; decorative metal containers, John Deere tub; Tasco telescope; 2 pairs of binoculars; cameras; 3 bowling balls; Fenwick pool cues; New Motor Guide FW-HT 30# thrust outboard motor; fishing supplies, new fishing reel; tool & tackle boxes; Coleman Ram X15, 3-person canoe; beautiful recurve wood bow in cloth case; geese & duck decoys; Casiotone MT-205 electric keyboard; 3 solid metal music stands; large variety of board games – Backgammon, Scrabble & Chinese checkers like new; croquet set; horseshoes set like new; Electronic "Millennium" pocket ball or pinball game; cloth hammock; portable canvas chairs.
MISCELLANEOUS: Unique rock & mineral collection; 3-pc set of vintage camel-colored Samsonite luggage; set of Jordache luggage; 3 antique red wagons, different sizes; 18" colorful wooden horse; porcelain dolls; many nice woven baskets, including picnic & knitting; beautiful "boxes" of wood, cardboard, or cloth; large variety of gift packaging; themed décor: holidays, carousel, SW, animals, etc.; porcelain Snowman Family; porcelain Santa & reindeer; Christmas creche; 2 aquariums & light; bird cages & bird houses – functional & decorative; cat supplies & decor ; Samsung 12" B/W home security system, unused; glass shelves, glass doorknob set, wallpaper, etc.; motor with fly wheel.
VEHICLES: 1998 Mercury Sable; 1993 Aerostar (does not run); 1986 Sports coach RV (last used in 2006), vintage mid-60's interior; car jack, floor jacks; metal ramps..
CONCURRENT RUMMAGE SALE
Huge selection of quality books on cooking & wine, gardening, art, science, literature, rocks & minerals, plus children's books, coffee table books, New York Times best sellers; DVDs, VCR tapes, CDs & albums; inexpensive gift items & décor; and more.
SELLERS: STEVE & CAROL COLARD ESTATE
Mari Detrixhe, Durable Power of Attorney
TERMS: Photo ID to receive a bid number. Cash or check with ID accepted. Not responsible for accidents or theft. Nothing removed until settled for. All announcements made the day of sale will take precedence over any other information.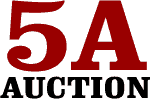 Auctions Conducted by: 5A Auction Service
Greg Askren - Agent/Auctioneer, 785-243-8775 • Cody Askren - Auctioneer, 785-364-7249
Gloria Fowles, Broker • HOMESTEAD REAL ESTATE 785-632-3733
www.5Aauction.com • gpaskren@twinvalley.net • www.kansasauctions.net