Saturday, September 28th, 2019 at 12:00 PM
Yard Items, Household & Furniture, Garage & Outdoor
AUCTION LOCATION: Cloud County Fair Building — East edge of
CONCORDIA, KANSAS on 6th St. (K-9 Highway) LOOK for SIGNS!
YARD ITEMS
Sitting Dalmatian; Racoon; 2 Hen w/Chicks; Gnomes; Yard Chairs; 3 metal frame benches; Well w/electric water pump; other yard art items.
HOUSEHOLD & FURNITURE
2 piece dresser set w/queen size bed; 3 Twin beds; Wood bench with storage; 1 glass top coffee table; 4 glass top end tables; Blue sofa; Blue Chair; Standing lamps;Wood end tables; Old desk; wood chairs with cushions; 32" ROKU flat screen TV; several knick knacks; photo albums; table lamps; Pink recliner; magazine rack; Horse shoe wall hanger w/branding iron; 35" round table; 6 dining chairs; mops & brooms; GE microwave; glass mixing bowls; oven dishes; measuring cups; Pyrex Bowls; 2 piece toaster; Anchor Hocking baking dish; Footed blue dish; Set of Noritake dishes; Corelle bowls & plates; Presto Salad Shooter; Hamilton Beach slow cooker; set of 9 Saudi Oval dishes; some Winterling Bavarian China pieces; 2 Noritaki Japan coffee cups & 4 saucers; 2 metal cabinets, 1- 36" tall and 1- 60" tall; Handicap walker; 2 small infared heaters; Pitchers with wash basins; SO-FRO sewing machine; HP Printer; Sylvania cassette/ player with turn table w/2 speakers; 4 & 2 drawer filing cabinets; Bissell Power Force vacuum sweeper; 2 desks; microwave stand; clothes hamper; quilt rack; metal shelves; 5 drawer dresser; step stool; chest full of dish towels; bedding; box of bows; oscillating fans; roaster; glass cake tray; assorted board games & puzzles; Shark handheld sweeper; card table/chairs; night stands; small book shelf; 3 trunks; material pieces; 36" x 72" Air hockey table; Cast Iron stove; coal buckets; 14 assorted kerosene lamps; small drop leaf table; lots of VHS movies; 4 cassettes set of "The Best of Old Time Radio Starring Lucille Ball; 45 rpm records; over 50 33 rpm record albums (some collectibles).
GARAGE & OUTDOOR
Craftsman LT1500 riding mower 17 ½ HP; Murray 20" 3.5 hp push mower; Durabilt air compressor; (2) 42" utility wagons; Lawn chairs; (6) 38" plastic round tables; Werner 8' fiberglass step ladder; jack stands; Bruno Wheel Chair lift; saw horses; shovels and other long handled tools; turkey decoys; car ramps; 1 gallon Blue Band stoneware jug; electric Tools; 2 Poulan chain saws; skill 10" band saw; old wash tub on stand; T post; tomato cages; step ladders; Aluminum ext. ladder; 3 deer hanging hooks; Old metal lawn chair; wheel barrows; misc. lumber; 5 gal shop vac; storage tubs; Iron wagon wheels; Coronado pedal Sewing machine.
SELLER: BARBARA RYALS ESTATE
TERMS: Photo ID to receive a bid number. Cash or check with ID accepted. Not responsible for accidents or theft. Nothing removed until settled for. All announcements made the day of sale will take precedence over any other information. LUNCH STAND!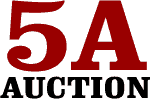 Auctions Conducted by: 5A Auction Service
Greg Askren - Agent/Auctioneer, 785-243-8775 • Cody Askren - Auctioneer, 785-364-7249
www.5Aauction.com • gpaskren@twinvalley.net • www.kansasauctions.net