AUTOMOBILES, TRACTORS, POWER EQUIPMENT
1997 Ford Crown Victoria (mi- 79747) maroon, 1948 Buick (needs repair), 18' Eldorado MCore Motorhome, 22' HiLo Camper (bumper pull), Pickup camper, 8N Ford Tractor (Serial # N F21 1), Case VAI Tractor w/manual, 4'x8' homemade utility trailer, 3pt. 5' Bush Hog, 3pt BMB 6' Blade, 3pt Newgren 2 bottom plow, New 2018 Cub Cadet 0-turn riding mower (13.9 hrs.), Cub Cadet Snowblower 524 SWE Zero turn power steering, Craftsman chippers shredder, Wheel Horse riding Lawn Mower B- 111 4 speed (needs motor), MTD sickle mower, Craftsman self-propelled 22" push mower, Brinkman Gas Smoker Fryer, Tecumseh rear tine roto tiller, Murray Ohio front tine tiller, 2 sp 8 horse 3 wheel riding mower (32"), Homelite 730 riding mower for parts, other mowers for parts, Stihl BG55 leaf blower, Homelite weed eater, MD cordless weed eater, several weed eaters for parts, True Temper wheelbarrow.
TOOLS & SHOP
Sears battery charger, Starret Micro Meter in wood box, Snap-On PIT 120 driver, Snap- On air chisel, Snap-On driver socket set, MAC tool #PP60K punch set, misc. Snap-On wrenches, lots of misc. tools, wrenches and socket sets, 6' alum step ladder, Sears model 113-226423, come-a-longs, gas jugs, gourd bird houses, floor creeper, wood tool box, hammers, saws, levels (old wood level), hand saws, grease guns, gas powered hyd. pump, electric cement mixer, old belted saw frame, 500 gal. tank used for burning oil, several 50 gallon drums, extension cords, trouble lights, scoop shovels, floor jacks, potato fork, electric air compressors, axes, oil burning shop heater, 2 barrel wood stove, misc. circular saws, pipe threader size 1/2" - 3/4"-1", lots of old motor parts, Thors ½" dr. elect socket driver, B&D hedge trimmer, Central Model SKU #7242 ½" chuck drill press, Sears timing light, pipe cutter, sharpening stones, misc. chisels and punches, files, Snap- On tool box (upper section), Lincoln AC 225 amp welder, tap & die set, box O-rings, Craftsman Model 987.799930 belt sander, misc. car manuals, air spray paint cans, propane bottles, 6 jack stands, 1 hyd. jack, dry wall sander, new camping porta potty, 3 tool boxes, Skill saw, Wagner sprayer, electric space heater, bicycle air pump, boxes misc. tools and fitting, 2 Chicago elec. 12volt impacts wrenches, Like New bead roller, Chevy clutch disk, Chevy clutch PP, rims, pair car ramps.
ANTIQUE
Walnut sheller, dump rake, school desk, National Service manual 1937 & 1938, 1 gallon Brooks Oil can/pitcher, 2 Coleman lanterns (Models 228F & 228E), 1 Brooklere lantern, set of Bavarian china ± 100 years old.
HOUSEHOLD
Collection of Time Life Building Books, New meat grinder, Hotpoint clothes washer, Amana dryer, set of Revereware skillets, cookie jar, asst. of Jell-O molds, apple peelers, misc. glassware, wood carved cake plate & cover, old chest freezer, Frigidaire upright freezer, Montgomery Ward apartment refrigerator, Pro Form treadmill, Maytag smooth top stove, Nice Kenmore refrigerator, misc. dishes – bowls and cups, Last Supper clock, large yellow Tupperware cannister set, Powerline Daisey BB w/scope, metal ironing board, (2) 4-dr chest of drawers, makeup stand & mirror, metal bed frame, water pitcher and wash bowl, bedding, copper boiler with lid, PFAFF sewing machine in case, 2 sewing kits, Eden Pure Wall Hugger heater, old trunk, 6 drawer dresser with mirror, 2 elephant wooden lamps, Seiki 12" flat screen TV, Magnavox flat screen TV, oscillating fan, misc. pink glassware, other misc glassware, Alder table with 3 leaves, Mahogany hutch, fish poacher pan, 11x14 new picture frames, set of jewelry trays/tracks, queen bed frame, decorative rabbit welcome, 2 decorator chickens, serving bowls, small mahogany table, pewter plate, 6 Boyd's Bear Figurines, 2 White bird figurines, 1 ceiling fan, humidifier with extra filters, collector plates, misc. collection of crystal candle holders, French butter dish, New Winchester small gun safe, New Contractor Heater, 6 stainless steel canning bowls, center screw piano stool, couch table, Lane cedar chest, other misc. items.
SELLERS: HAROLD LEROY & FAY MAY ESTATE
TERMS: Photo ID to receive a bid number. Cash or check with ID accepted. Not responsible for accidents or theft. Nothing removed until settled for. All announcements made the day of sale will take precedence over any other information. LUNCH STAND!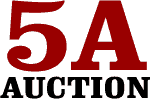 Auctions Conducted by: 5A Auction Service
Greg Askren - Agent/Auctioneer, 785-243-8775 • Cody Askren - Auctioneer, 785-364-7249
www.5Aauction.com • gpaskren@twinvalley.net • www.kansasauctions.net