Saturday, May 4th, 2019 at 10:00 AM
Household, Furniture, Collector Wall Plates,
Pottery, 8N Ford Tractor, Tools
AUCTION LOCATION: 709 Washington Street - CLYDE, KS 66938
Right on the main road through Clyde ... K-9 Highway
Lots of Books; hanging lamps; floor lamps; lots of pictures and frames; glass town set w/lights; wicker stool; Midland weather alert radio; Sony BDP 2500 Blue Ray disc player; Emerson 20" LCD TV; Funai 38" TV; misc. wall shelves; 2 wood frame bathroom medicine cabinets; metal shelf; pedestal fans; Pen & Gear paper shredder; herbs & spices cabinet; book shelf, 61" long x 52" tall; lots of misc. quilting pieces and sewing items; quilt rack; Lady Sunbeam Salon- Style hair dryer; (5) 2-door file cabinets.
FURNITURE: Abernathy Furniture Co. 3 dr. dresser; Blue love seat; old rocker; Twisted steel chair; bench toy box; Ashley Queen size bed (2 yrs old); regular beds w/wood head & foot boards; twin size bed; childrens bed; 44" x 18" table; Antique wood high chair; matching rocking love seat & rocker; round table; 6 wood chairs; small deep freeze; Antique 6 drawer dresser; Antique stand on wheels; Antique 4 drawer dresser w/mirror; tall display cabinet; Antique pie cabinet glass doors; Antique lady's vanity dresser w/2 glove compartments and mirror; antique wash stand; wood kitchen table 68"x40" (2 leaves & 4 chairs); wood hall tree; 48" church pew; Antique rocker w/leather seat; Whirlpool side-by-side refrigerator freezer; Maytag gas dryer.
COLLECTOR WALL PLATES: Clifton School 1910-1972; Methodist Church Clyde, KS; C.E. Meyer & Co. Palmer, KS; Agenda Depot & Engine 1880 (1879-1976); Palmers Mercantile Co. C.H. Tegeler Mgr. 1924; Kansas State University; St. Joseph Catholic Church 1868- 1968 Centennial St. Joseph, KS; A Bi-centennial Salute to Clifton, KS, 1976; Clyde, KS 1866-1991 125th Jubilee; Belchers Hardware Belleville & Clyde; The Linn Store Co. Linn, KS; Clay County Courthouse Centennial Celebration 1901-2001.
Ironstone China wash basin & pitcher (basin is cracked); several jars & boxes of buttons; jar of marbles; 1 gal. jar w/wood handle; collectible spoons; collectible forks & knives; 45 & 33 vinyl records; Singer Sewing Machine #375031; Old hand crank sewing machine; Sexton Cocoa Tin; antique Redman Baby rocking cradle; Tonka Toys; Desert Water bag w/cork stopper; some Tonka toys; 27" Cauldron; 6 gal. Red Wing crock; 10 gal. Red Wing crock; 12 gal. Red Wing Crock; Sugar Britches doll; Cabbage Patch doll; blue dishes; JD Tractor clock; JD tractor picture; 1953 Ford 100 model pickup; 1948 F1 model pickup; metal 1917 truck pencil sharpener.
8N Ford Tractor (excellent shape, good tires); 7' 3 pt blade; 2 row lister; small harrow; antique corn sheller; steel wheels; old garden wheel hoe; sunflower yard wind mill; wheelbarrow; stainless wash tubs; other misc. outdoor items.
TOOLS: Makita hammer drill; Craftsman compact 3" circular saw; Grizzly nail gun (18ga 3/8 to 1 ¼ brad); Master Mech 3 ½" grinder; Master Mechanic 6 amp jig saw w/laser guide; Makita dry wall screw driver; Edison 2 wheel grinder; Craftsman router; Heavy Duty 2 wheel grinder on pedestal; bar clamps; U clamps; wood clamps; corner clamps; Delta bench drill press; Stihl gas hedge trimmer; Stihl chain saw; Master Mechanic 10" chop saw; Campbell Hausfeld air grinder; Craftsman 3 ½ hp 15 gal. air compressor; Craftsman 2 pc. tool box; Delta combo 4" belt & 6" disc sander; ext. cords; other misc. tools.
AUCTIONEER'S NOTES: This is a nice auction. Plan to spend the day. Contact the auctioneers in case of inclement weather.
SELLERS: DAVE & REVA COASH ESTATE
Rhys (Coash) Baker - Administrator
TERMS: Photo ID to receive a bid number. Cash or check with ID accepted. Not responsible for accidents or theft. Nothing removed until settled for. All announcements made the day of sale will take precedence over any other information.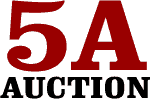 Auctions Conducted by: 5A Auction Service
Greg Askren - Agent/Auctioneer, 785-243-8775 • Cody Askren - Auctioneer, 785-364-7249
Gloria Fowles, Broker • HOMESTEAD REAL ESTATE 785-632-3733
www.5Aauction.com • gpaskren@twinvalley.net • www.kansasauctions.net