Auctioneers Note: George & Mary Frances have sold their house and are down sizing into an apartment.
ANTIQUES & COLLECTIBLES
Antique buffet, drop front butlers desk, #1369 Kellogg Chicago crank telephone, Kellogg (2 pc) crank telephone, 33 rpm records, Antique Chatillons Balance #2 hanging scale, wood box w/S.H. Mahone Extract Co. lettering, Antique fishing reel oiler, old funnel ricer, flower sifter, Fire King mixing bowls, pewter cruet set, Old Polaroid flash camera, misc. other cameras, 4 old kerosene lanterns (Hybrid Spencer Bartel #2, Embury Mfg. Co. # 160, #2 Large Fount Dietz D-lite, Embury #2 Air Pilot, Antique rocker, radio cabinet, Antique trunk, Red candy dish, misc. Avon bottles.
FURNITURE & HOUSEHOLD
Waterfall 4 dr. dresser night stand & full size bed, 2 magazine rack lamp stands, RCA boom box cassette player, Pro Form Crosswalk 405 E. treadmill, oscillating pedestal fan, Oreck vacuum sweeper, misc. shelf items, Shark Sonic Dyno Airglide floor mop, Michelin car wash kit, water bath canner, 7 qt. pressure canner, boxes of canning jars, misc. books, pr. binoculars, 2 floor lamps, misc. coolers, misc. framed pictures, boot jack,misc. kitchen utensils, little wood step stool, assortment of wicker baskets, full size air mattress w/blower, Channel Master 8 track turn table stereo, Zenith 20" TV, Zenith 19" TV, Zenith 21" TV, 2 recliners, Sunbeam grill.
GUNS
Winchester Model 1200 12- gauge pump shotgun Ser.# L942232, Winchester Model 62A pump 22 rifle Ser. # 267113, Remington Model 514 bolt action 22 rifle, Little Krag 22LR bolt action rifle, Daisy Model 111 lever action BB gun, Brick of Federal .22 ammo, Smith Washita sharpening stone in box, 2 skinning knives, 2 pocket knives (Old Timer & Case), Ammo boxes, 2 soft gun cases, Outers gun cleaning kit, sleeping bags, camping stool.
TOOLS, LAWN & GARDEN, MISCELLANEOUS
Car ramps, jack stands, limb saw, hand full of elect. fence post, 12 T post, Yard Machine by MTD garden tiller 5.5 HP engine, 100' collapsible garden hose, Antique corn seeder, 30- amp RV ext. cord, heavy pry bar, Craftsman weed eater, post hole jobbers, Scotts lawn spreader, MD 6' alum. step ladder, T-post driver, assortment of long handled tools, Tractor lawn sprinkler, machete, hedge trimmer, B&D cordless 40v 24" hedge trimmer, router, router guide table and tools, table saw, 3.5 HP Ariens elect. start Snow Blower, ¾" drill, skill saw, sander, hand saws, jig saw, double wheel grinder on stand, flaring tool, Craftsman timing light, pry bar kit, Fuller 3 ½" bench vise, KD snap ring tool, misc. files, tubing bender tool, Weed Eater leaf blower, Yard Works 10 cu. ft. lawn trailer, snow shovels, Stanley portable table vise, small dolly cart,metal step stool, Halogen light on stand, Werner 24' alum. extension ladder, rolling shop stool, Ace 2 gal. hand sprayer, misc. tie down traps, lots misc. tools, Car Quest battery charger, assorted containers of nails and screws, Craftsman 135 psi air compressor 3.7 scfm@40 psi., 2 fast hitch bars, 2 fire extinguishers, socket sets, metric & standard tools, Forgemaster deep socket set, upright steel cabinet, box fan, Bag Boy golf bag cart, Craftsman 13.2 cordless driver w/charger & 2 batteries, storage bin cabinets, screw drivers, level, Stanley back saw w/miter box, leather punch, Fuller 10" pipe wrench, 14" pipe wrench, 3/8 long shank wood bit, sm. C-clamps, Craftsman stapler, snake light, 3 metal shelves, gas grille with bottle, other misc. tools.
TERMS: Photo ID to receive a bid number. Cash or check with ID accepted. Not responsible for accidents or theft. Nothing removed until settled for. All announcements made the day of sale will take precedence over any other information. LUNCH STAND!
SELLERS: GEORGE & MARY FRANCES HOLDREN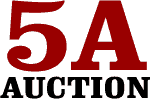 Auctions Conducted by: 5A Auction Service
Greg Askren - Agent/Auctioneer, 785-243-8775 • Cody Askren – Auctioneer
www.5Aauction.com • gpaskren@twinvalley.net • www.kansasauctions.net