Saturday, June 10th, 2017 at 10:00 AM
5th Wheel Camper, Mowers, Glassware, Pictures, Furniture,
Appliances & Household, Antique & Collectible,
Shop & Outdoors, Rock Polishing Equipment, Misc.
Auction to be held at 913 Grand Avenue — CLYDE, KANSAS
Directions: 1 block south of the high school & 1 block west or 3 blocks North of Washington St. & K-9 on High St. & 1 block west. (LOOK FOR SIGNS)
George and Lily have moved into Concordia and are downsizing!
5TH WHEEL CAMPER
Cougar by Keystone Fifth wheel camper, 32' w/1 slide out, queen bed, shower, bathroom, new refrigerator and new tires,(in great shape); Brand new awning, carpet; 30-amp camper cord; Tri pod lantern hanger; Other RV fittings and supplies; Air deflector for a camper pickup; Tailgator TV antenna; Lynx levelers.
MOWERS
Toro SS 5000 50" deck zero turn mower (47.5 Hrs.); Craftsman Garden tractor, 6 sp. 42" 15.5 hp. Kohler engine w/bagger; MTD push mower; Snapper snow blower; CraftsmanAerator; Craftsman De-thatcher.
GLASSWARE
A lamp made from WWII shell casing; 1 gal. green jars; Salt & pepper cut glass set; 8 pc. Mikasa Dresden rose china set; 5 piece Hull set; Old milk bottles (MountainMeadow ½pt,Alamito Omaha Pioneer Dairy 1 qt., Guth Dairy 1 gal.); brown glass ash tray; Terra Cotta soap dish; 3 brown Grolsch beer bottles; Blue USA pitcher; 6 pink depression glasses; FireKing coffee cups; JD mug & bowls; Beyer hinged lid candy dish; miniature A&W mug; Noritake China, Pattern #N367; Stangle pottery; Danbury Mint Presidential bell set 7 pc.; Lefton China; Capodimonte Bowl fromItaly; Nippon Dish; Green glass ware; Arthur Wood 3 pc tea set #5525; Some Bone China; Adderley Saucer set; Porcelain Basket by Ganz; 12 pc Green Cherry Blossom carnival glass; R. Capodimonte (Italy) candy dish; Royal Albert Bone china.
PICTURES
Pointing English setters by G. Muss Arnold, Pencil sketch by Chris Marie Meeker, (pre-world War II pics, USS Arizona, USS New Mexico,) US Armada World Cruise Fleet, other war ship pictures; wolf pictures.
FURNITURE, APPLIANCES & HOUSEHOLD
Kenmore upright freezer; Whirlpool Refrigerator; Estate Clothes washer; Kenmore dryer; Kenmore refrigerator; Haier 5.0 cu ft. deep freeze; 2 woven seat chairs, other old chairs, TV stand; VCR stand; Cat Napper Recliner; Cat Napper divan w/double recliners; electric lift chair; Marble top lamp stand; Old rocker; tower fan; Misc. Baking dishes; two drawer filing cabinet; Emachines 17" flat screen computer monitor; Computer desk; floor lamps; old metal bed frame; 8 slot gun cabinet; Invacare Elect. Chair w/extra batteries.
ANTIQUE & COLLECTIBLE
Round wood table w/4 leaf's & 6 chairs; early 1900's buffet; Cast Iron Skillets, Wagner, Griswold, Griswold Waffle iron, Griswold lid for skillet, #9 Griswold skillet 10 or 11; Complete Heirloom Sterling ware 16 pc set with accessories in box; 2 Singer sewing machines with cabinets, Serial #G2986078 pedal operated, Serial #JC321043 pedal; 8 gal. Redwing crock; antique dolls; Liberace phone; 3 woman statue (maybe ivory); 2 old wind up clocks; Coleman lantern; Road Runner weather vane; 3 old audio cassette sets including, Bob Hope Show, Old Time Radio's greatest shows, Old Time Radio's Greatest mysteries; 20 Elvis Albums in folders; 17 0ld Edison Records; Readers Digest Record sets; 2 handle cross cut saw; 2 old Kenmore sewing machines; Coca Cola trays; Coca Cola bottle opener; Two Masonic Swords; 3 hand fans (Elk State Bank advertisement w/2 digit phone number).
SHOP & OUTDOORS
Craftsman 10" table saw; Router and table w/blades; Craftsman 10" radial arm saw; Delta 10" meter saw; Misc. wood clamps; Craftsman 16" scroll saw; 4 1/8" Jointer/ planer; 1 gal shop vac.; Ohaus triple beam balance scale; Rotor- Signer attachment; 7" Kromedge Dado set; 2 shop vacs , 8 gal & 16 gal; 4 lawn chairs; Kenmore gas grill; Open end Wrench set; 2 axes; othermisc. tools; 2 Coleman camping stoves; Mr. Heater Big Buddy kerosene heater; tractor yard sprinkler; 16" Poulan chain saw; Stihl weed eater; Misc. elect hand tools; shovels, rakes & other long handled tools; Durabilt air compressor.
ROCK POLISHING EQUIPMENT
Saw w/10" blade, 3 wheel buffer/grinder, Buffer, Misc. Geo Rocks and other stones for cutting, case with jewelry for rock, 7" WET tile saw, 5 gal of Texaco cutting oil.
MISCELLANEOUS
Black Diamond 177 pellet rifle; Benjamin Franklin Model 132, 22 cal. Pellet pistol; XLAzonic Motorcycle helmet; Aiwa stereo; Lots of cassette music tapes; set of mounted steer horns;Wall mounting bracket for a large TV; Topper for a Ford pu.; ice coolers; Werner step ladder, Magic Chef dehydrator; box fans.
TERMS: Photo ID to receive a bid number. Cash or check with ID accepted. Not responsible for accidents or theft. Nothing removed until settled for. All announcements made the day of sale will take precedence over any other information. LUNCH STAND!
SELLERS: GEORGE & LILY WARBURTON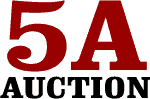 Auctions Conducted by: 5A Auction Service
Greg Askren - Agent/Auctioneer, 785-243-8775 • Cody Askren – Auctioneer
www.5Aauction.com • gpaskren@twinvalley.net • www.kansasauctions.net