Saturday, May 6th, 2017 at 9:00 AM
Real Estate at 12:00 Noon
Firearms, Automobiles & Trailer, Tractors, Appliances & Household,
Antique & Collectables, JD Machinery, Mowers & Shop, Belt Buckles;
1990 Kite Model Royal Oak 28x52 double wide on 7 acres, 3 bed, 2 bath,
Central Heat & Air with a propane furnace and electric water heater.
Auction to be held at 1638 Pawnee Road — McPHERSON, KANSAS
DIRECTIONS; PAWNEE RD EXIT, EXIT 65, 5 MILES NORTH OF MCPHERSON ON I-135, OR THE 1ST EXIT SOUTH OF THE MCPHERSON CO. REST AREA ON I-135, 30 MILES S. OF I-70, GO WEST ON PAWNEE RD 1/8 MILE. LOOK FOR SIGNS.
PERSONAL PROPERTY AUCTION
WILL START AT 9:00 AM
REAL ESTATE WILL SELL AT APPROX. 12:00 NOON FOLLOWED BY THE GUNS & AUTOMOBILES.
FIREARMS
Winchester Model 94 Lonestar Under Six Flags Edition 30- 30 Serial #LS14306;Winchester Model 94 Cowboy Edition 30-30 Serial #CB17296; Winchester Model 94 Golden Spike Oceans United by Rail Edition Serial #GS42402; Winchester Model 94 22XTR Serial #F520012 (never fired, new in box);Winchester Model 94 32 Special Big ring lever action saddle gun Serial #5084559 (never fired, new in box); Winchester Model 290 Semi-Auto 22 S-L-LR; Remington Model 1100 pump 20 ga. Serial #L321552X; MontgomeryWardModel 1929 single shot 12 ga.; 1892 Belgium Eclipse Beauty Damascus finish double barrel double hammer 12 ga. Serial #N27212.D; KK single shot 12 ga. Serial #4864; Stevens single shot 12 ga.; Tanarmi Gardone V.D. Italy Model E15 22 caliber revolver; Hartford Arms single shot 22 LR pistol.
AUTOMOBILES AND TRAILER
• 1997 Buick Park Avenue 4 Dr.
• 1995 Dodge Dakota Pickup 2WD
• 2017 Hillsboro 14' Electric/Hydraulic dump wagon
• 3 ½ hp JD mini race car
TRACTORS
McCormick Farmall H; (2) McCormick Farmall Cubs, one w/belly mower; 24 John Deere Tractors. 5 - Model A, 3 - Model B, 14 - Model D, 2 Model R, Some are for parts, some are complete; including Model 50 wide front end; JD 38 Model B long frame (narrow front end); 2 set Model R tractors in tandem; Model A Narrow front end, set up for pulling; 1928 Model D, unstuck; 33 D, unstuck; Model A w/factory round spoke wheels.
APPLIANCES AND HOUSEHOLD
3 beds (2 queen, 1 full); General Electric upright freezer; Whirlpool washer; Kenmore dryer; Kenmore trash compactor; General Electric refrigerator;WestbendMicrowave; GE Electric Range; ; Sanyo 42" flat screen TV; Emerson SDTV Dolby Digital 20" TV & stand; 2 – 18" oscillating fans; Round folding poker table; Misc. kids toys; Misc. blankets & bedding; Nano Cyclone Vacuum sweeper; bag chairs; card table chairs; New vanity dresser; metal desk; Lamp stand; 3 dr. filing cabinet; dining table with 2 leaf's and 9 chairs; several pictures; DVD & VHS cabinet full of movies; Blue couch; maroon recliner blue recliner; 4 upright fans; wall clocks; wall lamps; pr. Of lamp tables; mirrors; Daisy red Ryder BB gun; 2 hard shell gun cases; misc. pictures; Liquor bottles; handicap seat; 4 prong cane; Everest & Jennings wheel chair; 3 tier table lamp; Glassware; Cronin china; 18" turkey platter; Peach color dish, Swan china dish; Swirl glass Swan; 6 goose candle holder; Hamilton Beach 18 qt. roaster oven; Lem meat grinder; Sunbeam stand mixer; Holiday cookie maker; Beverage dispenser; sm crock pot; lg crock pot; Tupperware & plastic storage containers;Westbend bean pot; Pyrexmixing bowls;Measuring cups; Electric skillet; toaster; Stainless steel mixing bowl; Misc. pots & pans; Electric knife; Misc. glassware.
ANTIQUE & COLLECTABLES
5 oil lamps; CERAMIC STATUTES, (Buffalo, End of Trail, Rodeo Cowboy kneeling, Standing Cowboy holding calf, Bucking horse); Log cabin trinket box; JD planter box; several Home Interior Garden friends' figurines (horses, NativeAmerican, Eagles,Angels and more); Old school desk; Antique Corona type writer; Avon bottles; JD wall clock; Sunbeam thermometer; Antique Specialty Tools asbestos shingle cutter; 2 snow sleds (Flying Racer & Hiawatha); Antique Sod Plow;Antique Snap On Torque meter wrench; Several JD metal signs; 2 gal crock jug; 3 egg baskets; Rocking Pony; 5 gal Western Stoneware crock; 10 gal Buckeye Blue Ribbon crock; Power chain pedal tractor; Horse drawn cultivator; several dump rakes; Antique hay loft grapple fork; lots of misc. steel wagon wheels; horse drawn harrow; walk behind cultivators.
JD MACHINERY & ITEMS
JD books & manuals; set of JD magazines (1992-1998); JD girls bike; JD Box with JD stickers; 30 plus 10 & 20 series JD rear wheel wrenches; JD 801 hitch; Yakima Hitch; Pr of fenders fit JD A&B model; Pr. JD 18" 6 hole rims; 3 - JD tractor umbrellas; new hood fits JD B; JD seat back; 2- new Firestone tires 750x18 JD D w/tubes; 15" JD rims; misc. JD carburetors; JD starters;ModelAJD engine block (brand new); JD D piston (new in box); lots of misc. JD parts; misc. JD manifold; JD 3rd links; New JD – D 1930 & older crank shaft; 3 pt. fits JD M; 2 set JD rims & lots misc. rims; JD manure spreader; 2, 3 and 4 bottom JD plows; JD dozer fits Model M; 45 JD loader; 2- antique JD manure spreaders; Woodsmore – fits JD B; JD 2 row lister; JD Model 127 Gryramor bush hog; JD #9 sickle mower; spring tooth attachments for Model M; Loader for Model M; Model R Porky Dozer.
MOWERS & SHOP ITEMS
Swisher 40" side mower; Dixon Speed ZTR 48" mower w/24 hp Kohler engine; Husqvarna Z254 54" mower 24 hp engine; Murray 42" garden tractor 15 hp engine; Campbell Hansfield upright air compressor (80 gal., 175 psi., 220 twin cylinder engine); Craftsman 16" chain saw; McCulloch 16" chain saw; Chicago tester; Schumacher 10/40 amp 100/200 starter charger; ½" air impact gun; Bowes tire repair cabinet; misc. tire tools; air bubble; Cummins 6 ton hydra. Jack; Schaur battery charger; Lots of misc. tools; Misc. air tools; Air Hose; Tree limb saw; Craftsman gas powered leaf blower; Handyman Jack; black trunk; 5 gal. wood barrel; Sand Blast blaster with hose; GE Refrigerator; pneumatic Jack Hammer; 20" box fan new in box; Kleerflo Clean Master parts washer; Sand Blast sand blasting cabinet; Misc. coolers; lots of misc. filters; pile of sheets of plywood; Kids bike; Pedestal fans; Furniture dolly movers; EZ Go Electric Golf car; Chicago 6500 watt gas generator; rolls of barbed wire; Puma 5 hp double tank air compressor; Pelouze double dial scale; Weed eaters; metal implement seats; 5 gal. cans of driveway solvent; 48" shop fan; Freon re-claimer; Boomer 1 ton chain hoist; Hopper skeet thrower; metal shop tables; table saw; Farmland Pressure washer 6.5 hp 2500 psi; Ford 3 pt. pallet fork; Craftsman 30-230 amp stick welder; Pipe threading set in wood box; Halogen shop lights; engine stands; 5 gal shop vac; engine levelers; 5 gal portable air tank; 4x12 good year tires; concrete tools; ironsmith drill press; 30 ton Continental Press; Walker 3 ton floor jack; pneumatic engine stand; Walker plow handles; 3 hand held saws; 2 crosscut saws; 48" one handle saw; misc. extension cords; Cosco double folding aluminum ladder; 4 piece DSP&PRR train set; misc. bottle jacks 10 & 20 ton; 3/4" drive socket sets; Arnold Plummer Putter; Sunl battery powered scooter; 22T air hydra service jack; set of large steel drill bits; 4 dr. file cabinet; New Mark pneumatic paint gun; part bins; Waterloo tool chest; Snap-On & Buffalo open end wrenches & sockets;½" drive air wrenches; roll of fiberglass patching material; Hot Blast wood stove; numerous sledge hammers; set of large open end wrenches (1 3/8" to 2"); misc. metal files; Set of Cummins pry bars; Huskie log splitter (6 hp. 22T); Craftsman 16" scroll saw; JD flywheel wrenches; 5" vise; 115mm Makita grinder; Anvil; 7 ¼" Skill saw (new in box); Welding table; 3 ½TMichelin floor jack; New electric hoist; 2T Cummins Cherry picker;Welding Vice grip clamps; Homemade cherry picker; Transmission splitting stand; 3 A frames w/chain hoist; 2-Yale 1/2T chain hoist; Budget 1/2T chain hoist; 3 pt fast hitch; 3 pt cherry picker; homemade can crusher; old minnow trap; Dbl hitch implement puller; 2 bottom steel wheel plow; Oliver 2 bottom plowspring tooth; 2 - 3 pt blades; 300 gal diesel tank with elect. Pump; Cutting torch cart; f150 truck bed; loader frame; 3 pt. post hole auger; old cast iron bath tub; 6' stock tank; small trailer; 2 48" oval stock tanks; lots T post; pile of rake heads; tomato cages; garden wagon.
BELT BUCKLES
Kansas Highway Patrol GoldenAnniversary; Misc. Rodeo; American Historical 1984 Commemorative; (3) Case IH 8000 Series Hay & Forage Equipment; Historic Council Grove Set, (Hays House 1857, 1983, Kaw Mission, Post Office Oak, Last Chance Store); (2) 1887 Alta Vista Centennial; Ramona Kansas Centennial 1887-1987; Brass Buckle flowers; (4) 1985 Hesston Outfit Tournament Rodeo Buckles; Hesston Rodeo Buckles: (2) 1975; (5) 1976; (2) 1977; (3) 1978; (5) 1979; (4) 1980; (4) 1981; (4) 1982; (5) 1983; (8) 1984; (4) 1985; (4) 1986; (4) 1987; (4) 1988; (4) 1989; (4) 1990; Hesston National Finals Rodeo Mini Buckles: (5) 1984; (10) 1985; (5) 1986; (5) 1987; (3) 1988; (6) 1989; (7) 1990; (1) 1991; (1) 1992; Smokey Valley Saddle Club Buckles; (2)1987; (3) 1988; (2) 1989; (3) 1990; (3) 1991.
AUCTIONEER'S NOTES: This is a very large auction with lots of John Deere tractors, equipment and parts. Photo ID to receive a bid number. Cash or check with ID accepted. Not responsible for accidents or theft. Nothing removed until settled for. All announcements made the day of sale will take precedence over any other information. We will have a loader available to load out with.
Clerked by 5A Auction
Lunch Stand: Women of the New Gottland Luthern Church
Real Estate
will sell @ 12:00 PM at the residence.
A real nice 28x52 double wide home with a metal roof on 7 acres with a 30x40 insulated shop with a full cement floor and an abundance of mature trees surrounding the property for shade and wind break. Located on Pawnee Rd., a blacktop and with quick access to I-135 which makes getting to Salina, Wichita and McPherson easy traveling.
This is a 3 bedroom, 2 bath home with a large living room, dining room and spacious kitchen. The home has a nice covered wood deck with a ramp for handicap accessibility. Central H/A and electric water heater. This property has a domestic water well and lagoon. 2016 taxes were $788.94.
OPEN HOUSE Sunday, April 2, 2017 – 2 p.m. to 4 p.m.
Call me direct for questions, 785-243-8775 or email gpaskren@twinvalley.net
Terms & Possession: 10% down day of the sale, balance due on or before June 16th, 2017. Seller to pay 2016 taxes. 2017 taxes will be the prorated to date of closing. Title insurance, escrow and closing costs to be split equally between buyer and seller. Security First Title Co. will act as closing and escrow agent. Possession on Closing. This property to be sold as-is. All inspections should be made prior to the day of the sale. This is a cash sale and will not be subject to financing, have your financing arraignments made prior to sale day. Seneca Realty is acting as a Sellers agent and represents the seller. All information has come from reliable sources; potential bidders are encouraged to verify all information independently. All announcements made the day of sale will take precedence over any other information.
SELLER: JOHN (TOM) T. & DONNA LYMAN ESTATE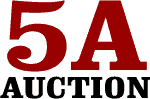 Auctions Conducted by: 5A Auction Service
Greg Askren - Agent/Auctioneer, 785-243-8775 • Cody Askren – Auctioneer
Mike Kuckelman, Broker, Seneca Realty, 785-294-1038
www.5Aauction.com • gpaskren@twinvalley.net • www.kansasauctions.net